Pastoral Transition Information
May 21, 2020
At its May meeting, Session approved the appointment of an Interim Pastor, Rev. Peggy Casteel-Huston. She will begin her time at PCO on August 1, 2020.
Pastor Peggy comes to us most recently from La Porte, Indiana, where she is currently serving as Interim Pastor. She has over thirty years of experience working in Presbyterian churches including serving several churches as an interim pastor. This is a specialized ministry, and the search committee was very concerned with finding a pastor who could assist our congregation through this time of discernment and transition. We have been so lucky to have twenty-four years with Rev. Dr. Robert Carlson, and now our congregation faces the task of figuring out who we are now and who God is calling us to become in this new stage of our life as a church. We are delighted that Peggy Casteel-Huston has agreed to journey with us through this process. You can read Pastor Peggy's letter of introduction to the congregation here.
For more on interim ministry and the transition process, please visit the PC(USA) resources on interim/transitional ministry. PC(USA) explains that "an Interim/Transitional Pastor leads a congregation during the transition time after an installed pastor has departed, helping the congregation prepare to welcome the leadership of a new installed pastor. Interim/Transitional Pastors understand the dynamics of a congregation in transition, including feelings of grief, loss, and, sometimes, relief or anger. Interim/Transitional pastors will help the session provide for continuity of essential programs, and may assist the session in assessing needs for changes in programs and ministries of the congregation."
In the coming weeks and months, PCO is very lucky to have Rev. Alice Townley serve as Bridge Pastor and Acting Head of Staff until Rev. Casteel-Huston's arrival. In this capacity, Alice will be leading worship and preaching, providing pastoral care, coordinating with church leaders and committees, and managing the church staff. Session, the Presbytery's Committee on Ministry, and PCO's Personnel Committee are all very grateful to Alice for stepping into this role.
These transitions are occurring in the midst of a very challenging time. But as we have seen over the past several weeks of isolation, the church finds ways to continue on as a vital community even in the midst of a pandemic.
Please join us during our virtual coffee hours in May after church for further discussions about the transition process.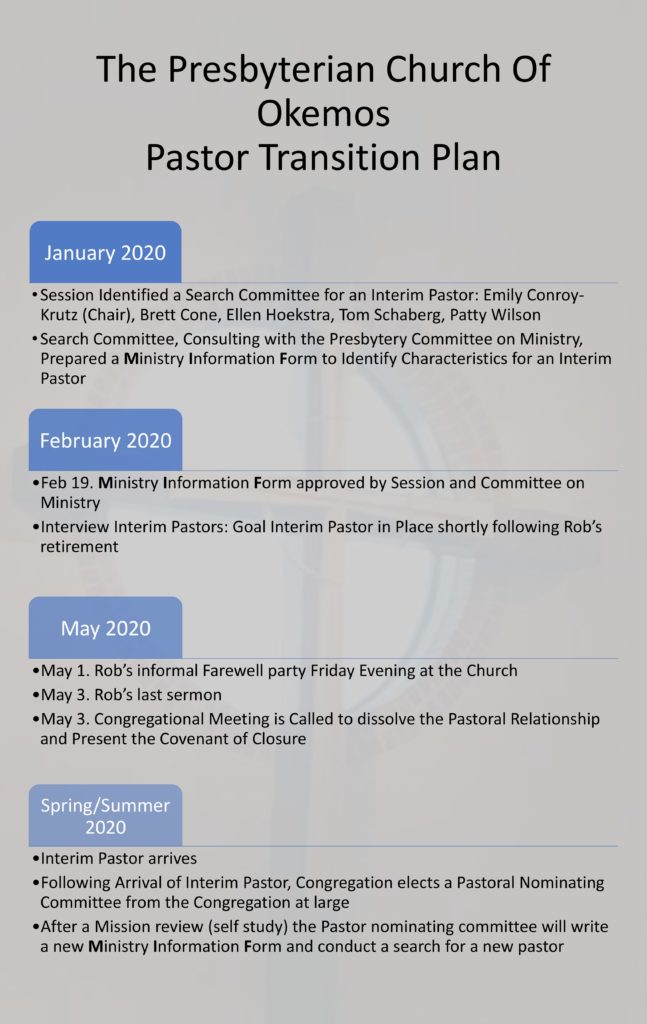 Covenant of Closure Information
An Important  note from session members:
As we enter into the time of transition for our church, from a Bridge Pastor to an Interim Pastor to a new Called Pastor, it is important that fellow congregation members are aware of our agreement we have with Rob about his current relationship to the church, called a Covenant of Closure.
The Covenant of Closure is a uniform contract that every Presbyterian Pastor signs when they leave a congregation,
In the Covenant of Closure, ALL membersof the congregation agree not to      a)initiate pastoral or professional contact with Rob.
In the Covenant of Closure, Rob agrees to…
a.) not involve myself in any leadership or advisory role (public or private) for PCO.
b.) not to intervene, support or give advice to anyone involved in a congregational disagreement or dispute;
c.) not to officiate in any special events in the lives of former parishioners or of the congregation, including weddings, funerals, baptisms, worship leadership, church anniversary activities, etc., unless expressly invited by the moderator of the session;
d.) to refuse requests for pastoral services made by members of my former congregation;
e.) to recognize that some conflicts make it unwise for a prior pastor to return to visit a previous congregation, and as a matter of professional courtesy, to establish an understanding with the new moderator of session regarding subsequent visits to the church, attending worship, or attending a special event;
f.) to refrain from giving opinions or direction regarding church business that could undermine the transition necessary for the church and the development of the relationship between the congregation and a new pastor.
It is understood that this policy does not affect or require the termination of friendships with individuals in the congregation.
May 2020