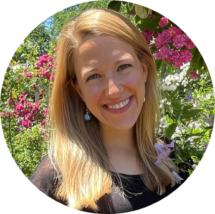 Rebekah Anderson joined PCO in August 2022.
Rebekah is passionate about ministry with people of all ages and sees the work of a pastor as a unique culmination of preaching, teaching, and walking with people through the greatest joys and deepest sorrows of life. Central to her ministry is the belief that all are beloved children of God who are inherently worthy of love and belonging regardless of achievements and abilities, failures and shortcomings. She believes the greatest gift she possesses is an ability to offer empathy, presence, and a compassionate listening ear to people.
She is also passionate about preaching and teaching and sees opportunities to share ideas with people as a tremendous privilege. She loves the creative opportunities in preaching and enjoys finding ways to blend scripture, culture, theology, and stories.