Anti-Racism Lenten Study, March Tuesdays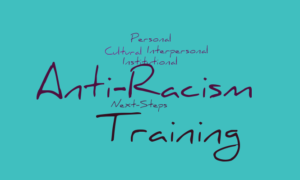 POSTPONED – More details coming later. Following Presbytery policy we are postponing these sessions. We will provide more information if/when we resume the sessions.
Unpacking the Realms of Racism, Tuesdays in March at PCO with Rev. Liz Miller facilitating,
5:30-6:30pm catered dinner (pay as able)
6:30-7:30pm Anti-Racism Training.
Childcare is available.  "Wilderness" Lenten devotionals are available in Fellowship Hall.
Dinners will be catered by local immigrant restaurants.
Date                    Food Coordinators                  Restaurant

March 3               Catherine Holdway                 No Thai
March 10             Matt Pearson                           Siraj Bakery
March 17             Iris and David Horner           Rahel Musa's Ethiopian Food
March 24             Judi Harris                              Sushi and sides
March 31             Candy and Bob Boldrey        TBD
---