Introducing Our Interim Pastor, Rev. Peggy Casteel-Huston
At its May meeting, Session approved the appointment of Rev. Peggy Casteel-Huston as our Interim Pastor. She will begin her ministry with our congregation on August 1, 2020. We are very excited to welcome her to the Presbyterian Church of Okemos!
To start to get to know Pastor Peggy, please read her letter of introduction to our congregation: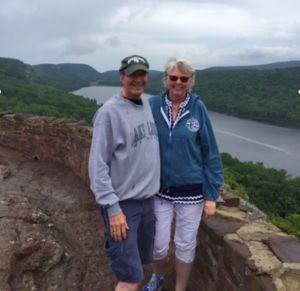 Greetings to the family of The Presbyterian Church of Okemos!
Allow me to introduce myself.  I am Rev. Peggy Casteel-Huston.  I was born in Terre Haute, Indiana and a 'Hoosier' all my life.  I felt a call to ministry in my teen years.  Over 30 years ago, I began serving Presbyterian churches as a Christian Educator and Preschool Director.  My education includes two undergraduate degrees, one from the University of Evansville and the second from Oklahoma Baptist University. My first post graduate degree is from Loyola University in New Orleans in Pastoral Administration.  While serving the churches as their CE and Preschool Director, I felt called to become a pastor with a degree from Louisville Presbyterian Theological Seminary.
I was ordained in a rural Presbyterian church in southern Indiana where I was the only female clergy in the county.  The First Presbyterian Church of Columbus, Indiana then called me to be their Associate Pastor for Youth and Children's Ministry.  I enjoyed my time at both churches but especially enjoyed working in mission traveling with teams of people to Mexico, Mississippi after Katrina, West Virginia, New Mexico, Michigan specifically to Detroit, and Kentucky. I hosted several trips to Israel/Palestine to honor a partnership agreement between the Presbytery of Ohio Valley and the Christmas Lutheran Church in Bethlehem.
In 2013, I moved to Michigan to serve as Pastor, Head of Staff for the First Presbyterian Church of Mount Clemens.  While serving as their Head of Staff, we welcomed 45 new members, baptized 17 adults, youth and children and walked beside 62 members as they entered the church triumphant.  Since that time, I have completed two interim calls – one in Cadillac, Michigan and the second in La Porte, Indiana.
I have faithfully served every presbytery I have been a part of.  In the Presbytery of Ohio Valley, I served as Moderator working on a re-visioning task force that created a new vision and mission statement still in use. I served as reader of ordination exams for the PCC that tests new clergy.  As a member of the Presbytery of Detroit, I was the co-chair for the Operations Team aiding in restructuring the staff design.
I was married three years ago in July to the Reverend Joe Huston, a United Methodist Minister, who still serves his denomination in retired status as a chaplain for the Clark Retirement Community.    Between us, Joe and I have 15 grandchildren who are the loves of our lives.  I look forward to once again serving in the Presbytery of Lake Michigan as an Interim Pastor for the Presbyterian Church of Okemos.  I am excited to meet and serve you.
---