Lenten Opportunities 2019
We are pleased to offer multiple opportunities to grow your faith and share in fellowship during Lent with Devotion/Reflection sessions, 'Cultivating and Letting Go', and a Tuesday night dinner series catered by local immigrant restaurants exploring different prayer traditions, 'Rhythms of Prayer'. Reservations are required for the Tuesday night dinners.
Ash Wednesday
On Ash Wednesday, March 6, we will worship at the community service 7 p.m., at Haslett Community Church, 1427 Haslett Rd, Haslett, MI 48840.
Weekly Devotion and Reflection Sessions

Lent is a season of spiritual gardening, of inviting God to unearth in us what lies fallow, what needs to be tended, and what needs to die for new life to emerge.
So opens our Lenten Devotionals, Cultivating and Letting Go, from Sanctified Art. They are available in the Fellowship Hall for $3.  Devotionals include weekly scripture, reflection, poetry, art for coloring, and prompts for journaling.  Engage at your own prayerful pace and consider joining others for discussion.
Sundays, 11:30 a.m. with Catherine Holdway and Esther Thorson in the Chapel.
Tuesdays, 1:00 p.m. with Sue Schnackenberg and the Artists' Circle in Room 108.
Wednesdays, 10:00 a.m. with Rev Alice Townley and the Conversation and Contemplation Class in Room 108.
Tuesday Evening Dinner "Rhythms of Prayer" Lenten Series, 5:30-7:30 p.m.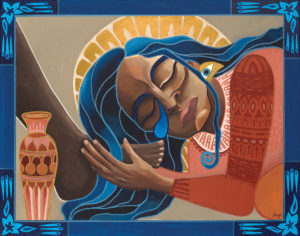 For five Tuesday evenings in Lent—from March 12 through April 9—The Presbyterian Church of Okemos and the Adult Education Committee are hosting a series of suppers and speakers. Supper will begin at 5:30, hosted by a team of church members and catered by a local restaurants started by recent immigrants to the United States. Our speakers will explore the theme, "Rhythms of Prayer," and they will represent a number of different prayer traditions. The program will begin at 6:30 and conclude by 7:30 each Tuesday evening. Child care can be available, but please let us know either by contacting the church office or using the sign-up sheets in Fellowship Hall or on the online (click here). The schedule is as follows (most restaurant names are links) :
Tuesday, March 12 – food from Naing Myanmar (Burmese), Rev. Alice Townley, speaker
Tuesday, March 19 – food from No Thai (Thai), Rabbi Amy Bigman, speaker
Tuesday, March 26 – food from La Cocina Cubana (Cuban), Artist Cindy Evans, speaker
Tuesday, April 2 – food from Siraj Bakery ( Middle Eastern), Imam Sohail Chaudhry, speaker
Tuesday, April 9 – food from Rahel Musa (Ethiopian), Rev. Rob Carlson, speaker
---