Sunday Worship, March 22 – Online only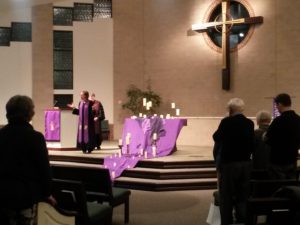 As part of the wider effort to arrest the spread of coronavirus, we will be offering a
Facebook Live worship service at 10 am on March 22,
and we ask that you not come to the church for worship.
The Facebook Live event will be broadcast live from the sanctuary as an abbreviated worship service, including sermon and music. At 10am on Sunday March 22, please join us through the PCO Facebook page: https://www.facebook.com/OkemosPresbyterian/posts.
Click here for a Worship Bulletin 3-22-20
Do not be concerned that you don't see a post before 10 am. The post will not appear until the service goes live. If you are not seeing the post after 10am, try to reload the page.
If you're already a Facebook user, you can get ready by clicking Follow

on the above page. If you are on Facebook, you will be notified when the event starts. You may Comment during the service to connect with other members. We invite you to click the 'Watch Party' to invite your friends to join the worship service.
If you're not a Facebook user, you can still follow from a personal computer using the link above though the banner to join facebook will also be displayed.
We will also post a recording of the service, so check back with the Facebook page as you are able.
Please contact livestream@okemospres.org if you have any issues accessing the service online, or with any feedback after the event. We are learning about how to broadcast live, and we appreciate your patience as we learn this new procedure.
---