Member Portal
This page provides links to documents and forms for our church members.
COVID Building Reopening Plans
We have a page dedicated to building reopening plans, click here.

Electronic Giving
PCO now offers online giving.  The Presbyterian Church of Okemos, like any institution, requires financial support to continue our mission.  This support comes entirely from members and friends who have historically been amazingly generous.  With the option of online giving, we are hoping we can make giving easier and help the church avoid seasonal cash flow fluctuations when people are unable to attend worship.  Please thoughtfully consider your financial commitment to the church.  You can set up a one-time or recurring donation using your checking account or savings account. By clicking the link below, you can create an account so that we can properly recognize your gift.  This will also allow you to access your records or make adjustments. When you click the link below,  a page will load that will allow you to register, (or log in if you have already registered) and will allow you to set up your contribution.   We hope you find this option useful.   If you need help with registering or making a donation, feel free to contact Doug Paterson and he will walk you through it.   (Doug's  contact information is in the Church Directory.) When you click the link, a page will load with a simple gray and white form. The donation URL is hosted by www.eservicepayments.com. Click here, or click the image below.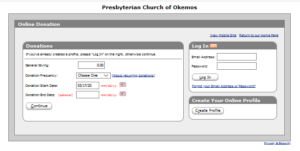 You also may be interested in using the mobile app for making donations to the Presbyterian Church of Okemos.
Text instructions for the mobile app.
How to use Zoom
The PCO family will need to use Zoom for many meetings. We have created a page with the most important points about using Zoom for meetings. Click Here.
Groups and Committees
An overview of key groups and committees. Find a way to be involved! Click Here.
Volunteer Job Descriptions
Your skills can be used for God's work. Look at our list of volunteer job descriptions to find an opportunity, Click Here.

How to use the PDF Member Directory on a Phone
For iPhone Users
For Android Users
Advent House Meal Preparation
The Presbyterian Church of Okemos expects to commit to some dates in 2018 for preparing and serving at Advent House. If you are interested in helping, contact Bill Given.
Here's a site that has a good variety of recipes for feeding 100+ folks (the pulled pork and the taco bar [with ground beef] caught my attention–other recipes could work as well):
http://www.behindthebites.com/
Volunteer meal providers usually provide the entree, including meat, potatoes/rice/pasta, and vegetable (salad is not big with the group but I've seen folks enjoy it with ranch dressing and Parmesan cheese); dessert is always popular and engages the bakers among your volunteers. Keep in mind that many folks have dental problems, so it's best to avoid food that is hard to bite or chew. We have those among our guests who are diabetic and have really appreciated when there is a sugar-free dessert option.
Forms and Documents
Endowment Grant Application (The application is in pdf format and is a fillable form. If you browser does not support forms, download the form and open with Adobe Acrobat or a compatible pdf reader. Or, you can print the form blank and then write-in the information.)
Time and Talent Survey –  This information helps church leaders match your skills with opportunities to share God's love through service. Follow the link or click the document image to load the pdf document. Return the form to the Administrative Assistant's mailbox or put in offering plate any time during the year.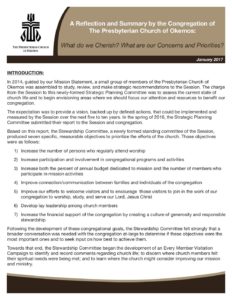 Support PCO at Amazon.com
While we do not endorse any companies, if you do shop at Amazon, consider supporting PCO.
Long-Range Planning Calendar
The Planning Calendar is NOT to be confused with the Event Calendar. This calendar is used by leadership to make long range plans. Sometimes events are changed at the last minute and this calendar may not be updated. Recognize that dates here are tentative for planning purposes.