Reflections on St. Patrick's Day
Many Christian pilgrims in Ireland use this day to hike up Croagh Patrick—one of the highest peaks in Ireland. Today, this pilgrimage is closed to the public. The devout climb the route that Patrick is said to have trod in the middle of the 5th century, when he spent the 40 days of Lent on the mountaintop.
Patrick's most famous prayer contains these lines: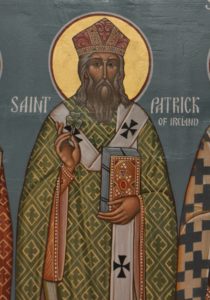 Christ be with me, Christ within me,

Christ behind me, Christ to win me,

Christ to comfort and restore me.

Christ beneath me, Christ above me,

Christ inn quiet, Christ in danger,

Christ in hearts of all that love me,

Christ in mouth of friend and stranger.
Consider praying Patrick's prayer today. Pick up and read something sacred—like Exodus 33:7-23, where Moses sees the glory of God on the mountain; or Matthew 17:1-20, where the disciples see Jesus transfigured on the mountain—then listen to some sacred Irish music. https://youtu.be/ihJAJA4ibEs
---