Online Family Vacation Bible School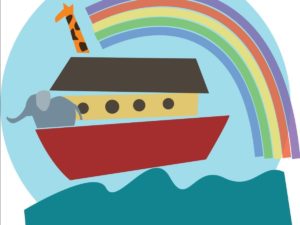 Our first ever virtual Family Vacation Bible School starts Monday, 6/22/20
Come Everyone next Monday and find out what the Lord said to Noah!
What time?  6:30- 7:30 PM
Why?    For four fun filled evenings we are going to find out what happened with Noah and his family!
Monday we find out about the Ark, Tuesday we add animals, Wednesday we realize that our time on the Ark is not just an overnight and Thursday the land dries up and we see the rainbow.
Every day we have music, storytelling, and an activity.
These activities have many possibilities but you will need some supplies.
Monday- You will have time to make an ark as a family, it can be a drawing or painting, cut paper, something out of the amazon boxes we are all collecting, a laundry basket or anything else that you can think of.
Tuesday-  We will each be responsible for making a pair of animals.  Possibilities are: drawing, painting, using TP tubes or paper towel tubes, maybe an egg carton, natural things like leaves, petals, twigs etc. pasted to paper, sock puppets, painted rocks or again anything that you can think of.
Wednesday- No art supplies but you must use your favorite Bible story.
Thursday- Praise the Lord the sun is out and God loves us!  You will need a paper plate per person, cotton balls, glue, sharpie, strips of rainbow colors that could be paper, yarn, ribbon, streamers or crape paper.  You will want string or some sort of hanging material.
Everyone be ready for fun!  I would love it if you use your phone to take pictures of these activities to send to us.  The numbers will be listed in chat area of Zoom all week.
See you next Monday, June 22 to start our adventure.
---