The Presbyterian Church of Okemos is seeking a full-time Associate Pastor to assist in the development and further growth of our Faith Formation programs. As a congregation, we prioritize ongoing education to further our faith journeys. To live out our call as disciples of Christ, we seek to learn about and from others, and about issues facing our community, nation and planet. The Associate Pastor's commitment to these ideals will help the church to reach our mission goals.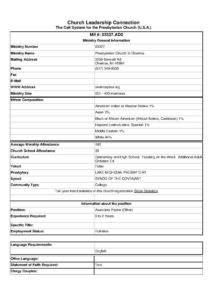 If you are interested in learning more about this position, please click on the
Ministry Information Form.
If you believe you would be a good candidate for this position and wish to apply, please email your resume or curriculum vitae to 'ap at okemospres dot org' converted to the standard e-mail format.