We are a Welcoming Church and will be pleased to have you visit!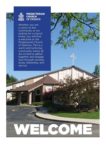 We are active in Mission at the regional, national, and international levels.
We have many fellowship and study groups.
We practice traditional worship with engaging sermons and music.
Click the image for our 'Welcome' brochure that provides a snapshot of the Mission, Education and Worship opportunities at the Presbyterian Church of Okemos.
Mission Page
Fellowship and Study Groups Page
Recent Services
Music Page
About our Worship Service
Sunday worship is at 10 am. Check our Events Calendar for announcements for special services
Masking is optional during our worship service (including while singing) and for programs at the church. We welcome all to mask as they feel led and we encourage those with increased risk to mask as appropriate. Please remember that young children may not have been vaccinated. The masking policy may be altered if COVID-19 conditions in our region change. If you prefer to worship online, see our Streaming Page
The Presbyterian Church of Okemos is a Welcoming Church! Our congregation consists of people with a variety of backgrounds, ethnic identities, ages, and types of families. Visitors will find people of various occupations, interests and lifestyles.
Whether you are a visitor to the community or are looking for a church home, you will find a welcome at the Presbyterian Church of Okemos. This is a place where all are invited to gather together and engage God through worship, study, fellowship, and service.

We would like an opportunity to greet you and get acquainted. Please attend a worship service and introduce yourself to one of our pastors or greeters.
What can I expect when I visit the church?
This is a child-friendly congregation! Most children come into the sanctuary for the beginning of worship and a children's lesson. Some children under 6 years old leave the service at that point and go to the nursery for play and crafts. Other children leave after the sermon and go with adults to the Chapel for singing time until the end of the worship service. There are children's activity packets provided by the sanctuary entrance. We have a well-staffed nursery that is open from 9:30 am until 12:15 pm.
What time is the worship service?
We offer one service year-round on Sundays at 10:00 AM as well as special services around church festivals. Visitors are always welcome.
How long will the service be?
Our worship service is typically 60 minutes long.
What type of service do you have?
Our worship is in the "traditional" style of Presbyterian and Reformed worship. Visitors will find that the language used in liturgy reflects not only Christian history, but also common and contemporary practice. Scripture, sermon, prayers, hymns, and an anthem by the choir are all part of the worship experience. We welcome children in our worship service, and there is nursery care available for the youngest children.
What should I wear?
You will find many styles of attire among the people in our worship service: "Business casual" is typical; some will be dressed more formally; others may be wearing jeans.
Sunday Fellowship and Education Hour Information
After worship, there is a time for conversation and refreshments in Fellowship Hall. Please plan to stay! This time proves an opportunity to get acquainted with new people and to meet with long-time friends. A greeter can help you to locate Visitor Name Tags.
Christian Education Hour for Children and Youth is from 11:15–12:15 each Sunday morning during the academic year (with few exceptions). These classes explore Bible stories, teach aspects of our worship, and for the youth, include opportunities to discuss faith and contemporary life. Classes are offered occasionally in the summer.
…and for Adults, from 11:30–12:15… One or two classes for adults are also on the schedule each Sunday during the academic year and those classes include Bible studies, discussions of current issues, studies in theology and church history, and parenting classes. Classes are offered occasionally in the summer.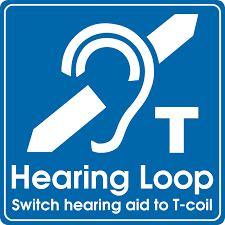 A hearing loop system around the perimeter of the sanctuary projects a magnetic signal to a telecoil (T-coil) receiver, found in the majority of hearing aids manufactured today.  Ask your audiologist if you are unsure about your hearing aid's ability to acquire this signal. If you have a hearing aid with a T-coil, the loop system will allow your hearing aid to become a personal sound system. It will pick up the sound directly from the microphone.  Background noise is blocked. Just before the service, activate by switching your hearing aid to the "T" position.
If your hearing aid does not having a T-coil feature or if you do not have hearing aids, you can use the Sound Mates amplifiers located just outside the sanctuary in fellowship hall that include an earpiece.  In addition, we have two hearing aid loop receivers that pick up the t-coil signal and work with an earpiece like the Sound Mates.

Where is the church?
Our church is located at 2258 N Bennett Rd, Okemos, MI, 48864, (phone 517-349-9536), on the northwest corner of Okemos Rd. and Bennett Rd. in Okemos, north of the dentist's office. The Google location plus code is MHX8+9P, Meridian Charter Township, MI.

Enter our large parking area by turning from Bennett Road onto North Bennett Rd. The entrance to the church is clearly marked with a Presbyterian Church sign, though the intersection of North Bennett and Bennett is not illuminated at night. The intersection is at the bend in Bennett Road.
Where do I enter the church building?
All entrances are handicap-accessible.
Sunday Mornings or Events. There is a circular driveway nearest the main entrance to the church where guests may be dropped off. Most visitors self-park and enter the Fellowship Hall through a the double doors closest to the parking lot under the small canopy on the south west corner. A coat room is located near the Fellowship Hall doors.
Office Entrance. The office entrance is accessed using the sidewalk closest to Okemos Road.