Live Worship Streams
Join us online at 10 a.m. each Sunday to watch the embedded video below, or click here to watch it on the PCO YouTube Channel.
An embedded video from YouTube will be posted below before the service. You can greet others viewing if you view the video on our YouTube channel while logged in to a Google account. To switch to YouTube, hover the mouse near the bottom of the video during playback, a control bar will appear, and you can click the YouTube name to view on YouTube as illustrated here:

Click to open bulletin in a new tab. Close the tab to return to this page.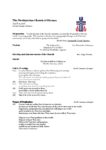 For help in using this page, visit the page about using online worship, click here and close the tab to return to this page.