The Presbyterian Church of Okemos (PCO), like any institution, requires financial support to continue our mission.  This support comes entirely from members and friends who have historically been amazingly generous.
Electronic Giving
PCO now offers electronic giving. Electronic giving is easier for members and help the church avoid seasonal cash flow fluctuations when people are unable to attend worship.  Please thoughtfully consider your financial commitment to the church.  You can set up a one-time or recurring giving using your checking account or savings account. By clicking the link below, you can create an account so that we can properly recognize your gift.  This will also allow you to access your records or make adjustments. When you click the link below,  a page will load that will allow you to register, (or log in if you have already registered) and will allow you to set up your contribution.   We hope you find this option useful.   If you need help with registering or giving, feel free to contact Doug Paterson and he will walk you through it.   (Doug's  contact information is in the Church Directory.) When you click the link, a page will load with a simple gray and white form. The donation URL is hosted by www.eservicepayments.com.
Give Now!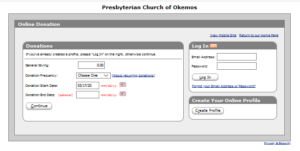 You also may be interested in using the mobile app for making donations to the Presbyterian Church of Okemos.
Printable App Instructions