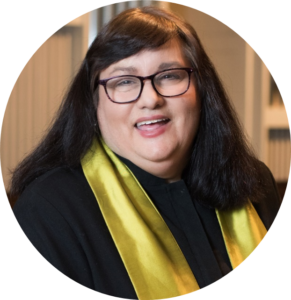 The Rev. Lisa Schrott joined the staff in November 2021. Prior to joining us at PCO, she served as the Associate Pastor for Pastoral Care and Congregational Life at First Presbyterian Church, Hilton Head Island. Rev. Schrott earned her Master of Divinity at Columbia Theological Seminary in Decatur, GA with Honor's in Practical Theology.
Lisa grew up in Bowie, MD, a suburb of Washington, D.C. She graduated from Lafayette College in Easton PA, with a degree in Biology. Following college Lisa earned an M.S.
and Ph.D. in Biobehavioral Science (Neuroscience). Lisa is a second career minister, having been an Associate Professor of Pharmacology, Toxicology, and Neuroscience
at Louisiana State University (LSU) Health Sciences Center in Shreveport, LA It is while there that she felt a call to ministry.
Lisa is married to Brian McWilliams. They met while they were both living in Connecticut and they have traversed the country for their respective careers, living in Colorado, Minnesota, Louisiana, Georgia, South Carolina and now Michigan.