The Longest Night Service Recording Available


A recording of the Longest Night service which took place on Sunday, December 19 is available on the PCO YouTube channel. The Longest Night Gathering was a safe and sacred space to mourn the losses and griefs of the year, to let the tears flow for the hurting places in our own lives, as well as for our country and our world. The service had music, scripture, a short meditation, communal prayer, and space for personal prayer. All were welcome, so please share with those you know who may seeking peace this holiday season.
The recording can be found on the PCO YouTube channel.
—-
Read the Meditation Transcript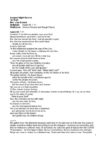 ---