The annual PCO mission trip to Cass Community Social Services was prefaced by Colossians 3:12 "Put on then, as God's chosen ones, holy and beloved, compassionate hearts, kindness, humility, meekness, and patience." Ten participated, including Pastor Lisa, eight members, and one friend of a member. The age range is available strictly on a "need to know" basis.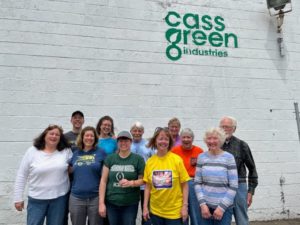 Our task this year was sorting paper to be shredded, one of the ways Cass raises revenue. Normally adults with developmental disabilities are employed part-time to supplement their governmental support so they can buy things like toiletries or go out to lunch as a group. However, the pandemic had stopped the programming for this group and boxes of paper were stacked high to the very tall ceiling. We experienced Colossians' " humility and meekness" when we realized that we were making mistakes in the sorting process and when we realized that even with ten volunteers, we could barely make a visible dent in the mound of documents in that room.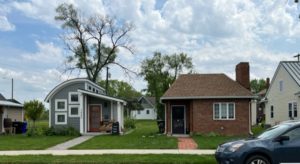 Highlights of the trip included a presentation by Rev. Sue Pethoud on Cass's history, a walking tour of the Tiny Homes, and dinner at Los Galanes in Detroit's Mexican Town. Those of us who've participated before enjoyed showing new participants which Tiny Homes we had worked in previously. There are now 25 Tiny Homes. And did you know that Pastor Lisa had CIA training in document destruction?
Thanks very much to the ten who came to Detroit and the nine who provided water and food—including homemade cookies!