Congratulations, PCO CROP Walkers!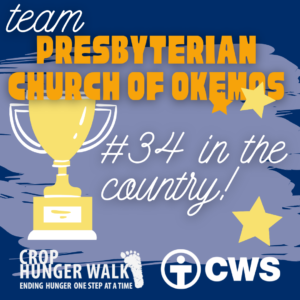 Once again, CROP Walkers from PCO have been recognized by the national office of Church World Service. In 2021, the PCO CROP Walk team raised $11,500.25 to fight hunger. This places PCO as the 34th highest fund raising team out of more than 500 teams across the United States. Great job, walkers, and a great big "Thank you" to all who supported them!
Click here to see a special message to PCO from Heather Wilson, community Engagement Specialist at Church World Service.
---