Christmas Joy Offering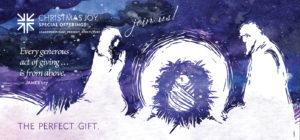 On Sunday December 23,2018 PCO will be participating in a Special Offering for the Presbyterian Church USA. The Christmas Joy Offering helps support two different mission efforts. Supporting the Board of Pensions provides current and retired Presbyterian church workers in need with financial assistance to support them through life's challenging circumstances. The second mission effort is to support Presbyterian-related schools and colleges who have a history of providing educational opportunities for communities of color.  The Menaul School in Albuquerque, NM, Presbyterian Pan American School in Kingsville, TN and Spillman College in Tuscaloosa, AL are recipients of this financial support.
Special Offering envelopes will be in the pew backs for your donation. Thanks very much for considering a generous donation for these worthy efforts.
---