PCO – Earth Day & Beyond
Friday, April 22 was Earth Day. As a recently-recognized Earth Care Congregation, PCO invited members to find ways to deepen their commitment to being stewards of the earth through worship and programs at the church and in the surrounding area.
Click here or on the picture below to see a list of recent activities at PCO and in East Lansing, Okemos and Meridian Township.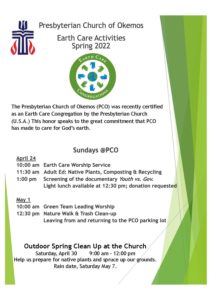 ---