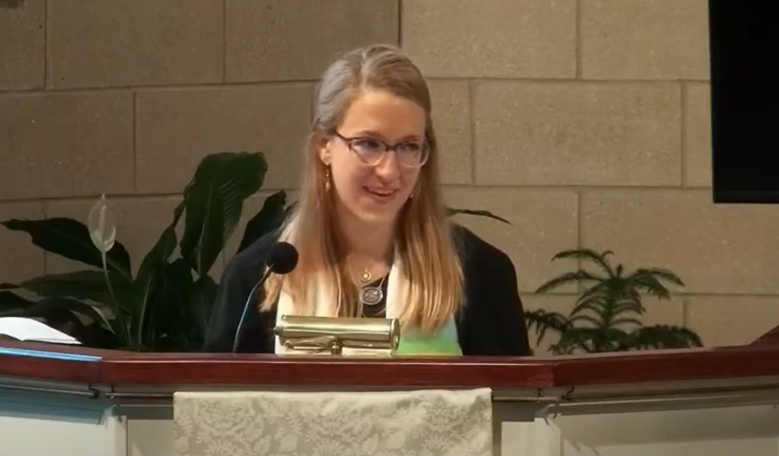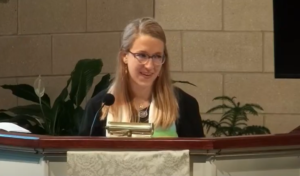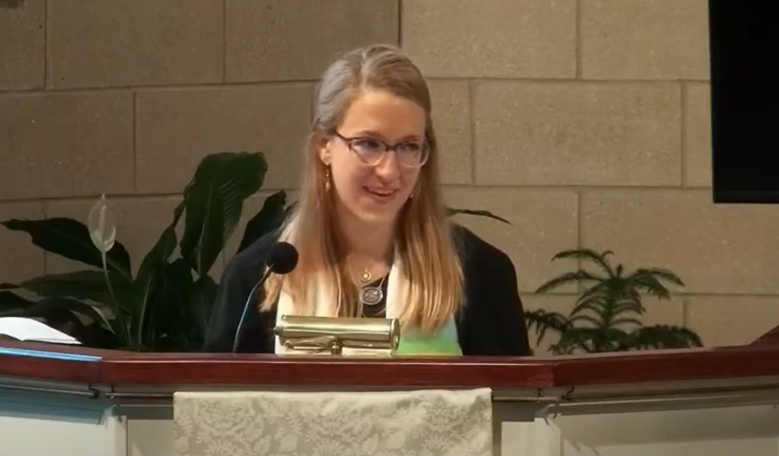 At a special called meeting of the congregation on Sunday, June 12, 2022, the Presbyterian Church of Okemos voted to call Rebekah Anderson as PCO's associate pastor. Rebekah's first 'official' Sunday in this role is scheduled on August 7, 2022.
Rebekah grew up in Mechanicsburg, Pennsylvania, a suburb outside of Harrisburg, PA, where she was involved in the Pine Street Presbyterian Church. She says that being part of Pine Street's youth group gave her meaningful friendships and opened the door for her to see herself in ways she might not have otherwise. On the annual youth mission trips, she started to truly see what faith meant for her life and felt the power of community and connection through the church.
She says, "These early experiences continue to shape me as I hope to offer the same sorts of opportunities for others in my ministry."
With the encouragement and help of her pastor, she started to think about pursuing ministry. She attended Stetson University in DeLand, FL to study Religious Studies and Psychology. While there, she served as a youth volunteer at First Presbyterian Church of DeLand. Her love for studying religion and cultivating meaningful relationships ultimately led her to pursue a Master of Divinity at Princeton Theological Seminary.
During her time at Princeton, her perspective on ministry was shaped by her time working as a Chaplain at Trenton Psychiatric Hospital, where she was an intern and most recently a Chaplain Assistant.  While in Princeton, she also served as the Interim Pastoral Care Pastor at Princeton United Methodist Church and as the congregation navigated the challenges and uncertainty of a pandemic.
Her Ministry
Rebekah is passionate about ministry with people of all ages and sees the work of a pastor as a unique culmination of preaching, teaching, and walking with people through the greatest joys and deepest sorrows of life. Central to her ministry is the belief that all are beloved children of God who are inherently worthy of love and belonging regardless of achievements and abilities, failures and shortcomings. She believes the greatest gift she possesses is an ability to offer empathy, presence, and a compassionate listening ear to people.
She is also passionate about preaching and teaching and sees opportunities to share ideas with people as a tremendous privilege. She loves the creative opportunities in preaching and enjoys finding ways to blend scripture, culture, theology, and stories.
Why PCO?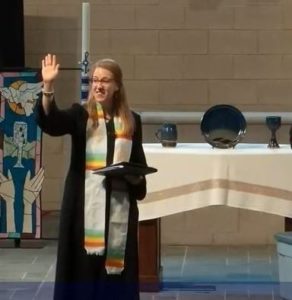 In her initial searches on the Church Leadership Connection website, Rebekah was drawn to the Presbyterian Church of Okemos right away. The language of PCO's Ministry Information Form spoke of building a community that listens to its youth, addressing human needs and inequalities through mission work, engaging in critical conversations about difficult issues, and learning about others from others. She deeply appreciated the emphasis placed on welcoming and accepting all people, working toward justice and healing, and the intellectual curiosity in the community.
Rebekah stated that with each interaction she had with the PCO congregation, she saw that the church does not just talk the talk…its members walk the walk. She says she is grateful for the ways that the congregation lives out its values and practices intentionality in considering how to do so and where growth is needed.
She said that in an early conversation with PCO, a member of PCO's Associate Pastor Nominating Committee said, "We're community that likes to do things…we like to get our hands dirty." She loves this about PCO and can't wait to take part in doing this work with the church.