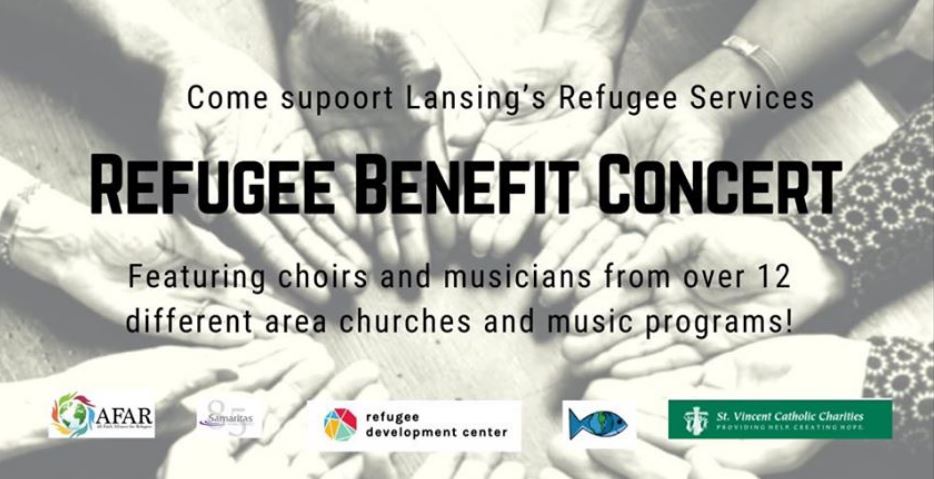 The Presbyterian Church of Okemos Choir is one of seven choirs performing in the All Faith Alliance for Refugees (AFAR) Refugee Benefit Concert.
7 p.m., March 16, 2019
University Lutheran Church
From 2008 – 2018, Saint Vincent's resettled 5,450 individuals, an average of over 500 per year. Many of them, especially those resettled recently, continue to come there for employment assistance and services such as interpretation for health appointments, English classes, housing issues, educational support, Living in America classes etc.
Federal funding for resettlement and some employment services is per capita, so as the number of arrivals is reduced, funding is as well. Saint Vincent's only resettled 157 refugees in 2018.
Over the past 2 years, arrivals have been reduced by 74% and in 2017, Saint Vincent's was forced to lay off 10 people to respond to this funding decrease. Even with that reduction, Saint Vincent's provided employment and post-resettlement services to 941 refugees.
Employment and post-resettlement funds are calculated based on the number of arrivals from the previous two years. Its funding will decline significantly for FY 2020 as it will then be based on the very low arrivals of 2018.
The national Presidential Determination for refugee arrivals for FY2019 is the lowest on record, meaning further reductions in funding. Yet Saint Vincent's continues to be busy with post-resettlement and employment services.
Since January 2017, 98 refugee resettlement programs around the US have been closed due to the decline in funding. It's critical that we not allow Saint Vincent's to be the 99th.
The All Faith Alliance for Refugees (AFAR) has planned this benefit concert to support Saint Vincent's Refugee Services. Although AFAR membership includes 4 refugee supporting agencies– including the Refugee Development Center, Samaritas, and GIL– all of them enthusiastically supported having 100% of the concert's proceeds  go to Saint Vincent's, the hub of the resettlement program in Lansing and the agency most at risk.
More about St. Vincent's Catholic Charities Refugee Services